---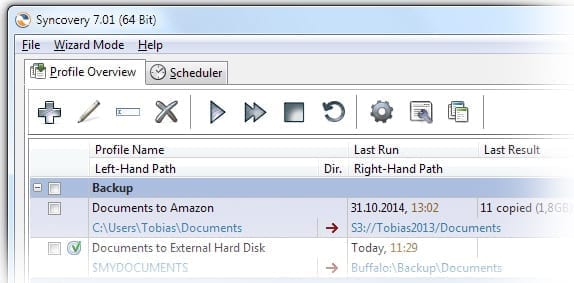 New version 7.25
Version 7.25 adds support for OneDrive for Business, Amazon Cloud Drive and MediaFire, and features a new, lightning fast database format for the "Cache Destination File List" feature. In the past, the cache database could often be slower than the destination storage itself in terms of building the file list. Now the database should be at least as fast as locally attached SSD drives.
To use Amazon Cloud Drive, click the Internet button and choose Amazon Cloud Drive as protocol.
Upgrading
If you payed for Syncovery version 6, either as a new license or an upgrade, then version 7 is free for you. It will continue to use your existing license and configuration. Just install.
If Syncovery version 6 was a free upgrade for you, then you can upgrade to version 7 for a fee. Please visit our upgrading system.
What's new in Syncovery 7
Available as native 64-bit and 32-bit versions (for Windows only). The Mac version remains 32-bit but runs fine on all Intel Macs, including the latest Mac OS 10.10.
All Internet connections with security now use TLS by default and avoid the vulnerable SSL v2 and v3 (especially due to the POODLE vulnerability). You can go back to the older protocols if necessary.
Editable colors and predefined color sets for the Profile Overview and Sync Preview
New Profile Overview setting: "Show Scheduled Profiles Only"
All libraries updated, i.e. new code for many features such as Zipping, FTP, SFTP, HTTP, as well as all other Internet Protocols
Includes latest OpenSSL libraries v1.0.1j on Windows, and SSL is now compatible with all known SMTP servers. On Mac, OpenSSL is part of MacOS, so Apple determines which version to include.
Simultaneous file deletions, renames, moves etc. (similar to files being copied in parallel, it will also be possible to have them be deleted in parallel to save time)
Multithreaded reading of folders in all cases except where a file list cache or a remote lister or one of the new cloud DLLs is used.
New Performance tab sheet on Program Settings dialog, as well as a threading option on the Files tab sheet in each profile.
Syncovery can now detect your Internet connection and run jobs only when a specific connection is active. See the Program Settings dialog, tab sheet "Startup". The detection works based on the reverse DNS names which Syncovery gets by querying https://www.syncovery.com/whoami.php. You can click this link yourself to see which DNS name your Internet connection has.
File copying up to 100 files in parallel per job is allowed although not recommended. Folder scanning up to 500 threads, but performance may degrade substantially if using more than 50 threads.
Multithreaded multipart upload to Amazon S3 in order to maximize bandwidth usage. You can specify the number of threads on the Program Settings dialog, tab sheet "Cloud". This setting will also be used for uploads to Glacier and Azure.
Support for MTP devices. You can now sync with any smartphone or camera including Android devices and iPhones. See the new "Device…" buttons below the left and right-hand paths when editing a profile in Advanced Mode.
Support for Windows Event Log and SugarSync cloud storage. Windows Events can be configured on the Program Settings dialog. Containers (buckets/vaults) can be chosen via a Browse dialog for Amazon S3, Glacier, Microsoft Azure, and SugarSync.
Support for Email as Internet Protocol that can be used for syncing, i.e. you can send and receive files via email using a Syncovery profile. All of the new cloud services are now compiled into the main exe files, so that fewer DLLs are required, and the Setup program is now smaller than version 6.
A button "Alternate Data Streams" has been added to the Special tab sheet, which will show a dialog allowing to choose whether Alternate Data Streams should be copied along with the files or not (Windows only). Stripping them from the files may have the advantage that Windows forgets that a file was copied over the network and removes the security prompt when opening it. However, in other cases, Alternate Data Streams may contain valuable information. The default is to copy them along with the main data in the file.
Folders for deleted files can now be relative to the base folder, and you can also use a separate Deleted folder in each subfolder. Examples are shown on the "Folder for deleted files" dialog.
SID translation can now be done when copying File Shares on Windows too.
When synchronizing with a server or any network folder, a configuration file can now be imported at the beginning of the sync. That way, members of work groups can be forced to all use the same profile settings. Please see SyncoveryV7serversidesettingsimport.pdf for details.
New since v7.10: super fast multithreaded remote listings with the new Synovery Remote Service
Intended new features after the initial release of v7
Improve support for each cloud service to make the best use of its features.
Real-time two-way syncs and downloads with some cloud services.
Filename Encryption
Support for Additional Encryption Algorithms
Support for Additional Compression Formats other than ZIP
Allow the Monitoring Tool to monitor other Syncovery installations outside of the LAN by communicating via an Internet server.
Installation Questions
Syncovery V7 can be installed on top of an existing version and will use the same configuration and database files.
The 32-bit version 7 will replace an existing V6 unless you specify a separate installation folder.
The 64-bit version will automatically be installed into a new folder and can be used side-by-side with any 32-bit version.
You can always go back to version 6 without any issues, because all configuration and database files are 100% comptible.