Syncovery 10 is the major new release in 2022. It includes these new features:
Sync with multiple destinations in a single profile

Free grouping of profiles – independent from profile names

Adds support for the 7-Zip format (Windows only)

Supports priority levels for profiles (new in v10.3)

Includes an updated SecureBlackBox library for SSH/SFTP

Support for empty folders via S3 and Azure BLOB Storage protocols

Adds the ability to combine versioning and block level copying

Can spawn separate sub-jobs for each subfolder

Adds miscellaneous smaller features

The upgrade is free for licenses issued since September 2020
Specifying Additional Destinations
Syncovery 10 allows specifying additional destinations on the right-hand side. A separate dialog will pop up with a table where you can add one row for each additional destination. Destinations can be different kinds, such as local paths, network paths, or Internet protocols. Each additional destination has its own world icon where you can specify connection details for Internet protocols and cloud storages. There are various modes for additional destinations, such as normal sync with each destination, simultaneous execution, or failover.

Free Grouping of Profiles
Traditionally, Syncovery groups profiles by the first word in the profile name. While this automatic grouping is still available, you can freely create and organize groups on multiple levels, and assign profiles independent from the profile names. You can choose a group when creating or editing a profile in Advanced Mode, and you can create groups and assgn profiles via drag and drop, using the new Profile Group Editor dialog window: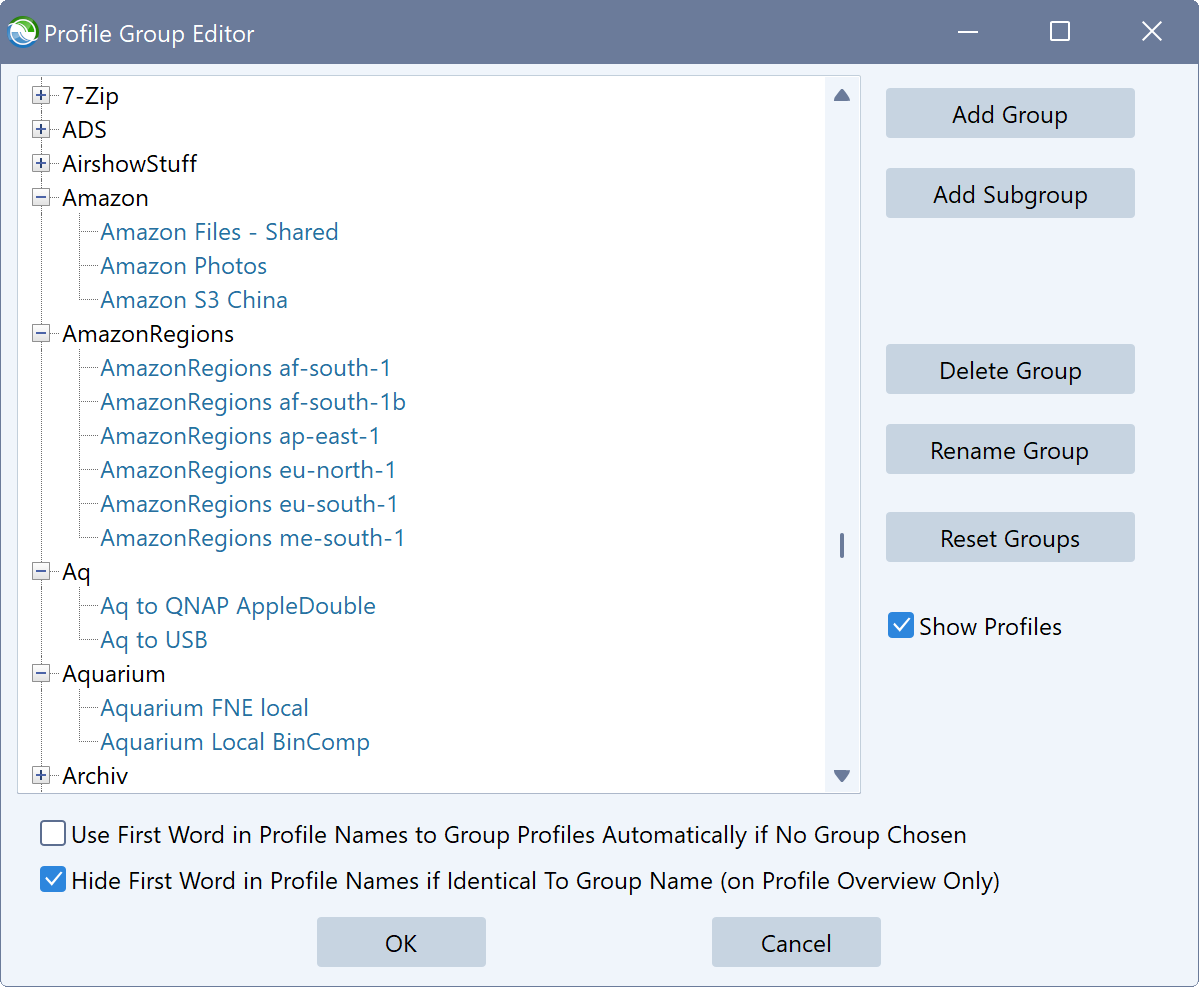 Support for the 7-Zip format (Windows only)
In addition to the standard Zip format, and our own proprietary Sz format, Syncovery now supports the 7-Zip format as a container for compression and encryption. The complete feature set is supported, including compressing each file individually, zip packages, and Synthetic Backup. The 7-zip format does require the creation of local temporary files before uploading to cloud storage or via Internet Protocol. So far, only the Sz format can be used to avoid temporary files, because it supports compression and streaming on the fly, directly from the original source files to any type of destination. 7-Zip and Zip can only compress directly to the destination if the destination is a standard file system path, such as a local path or a network path.
Updated SecureBlackBox Library
The updated SecureBlackBox library is now compatible with all current SSH/SFTP servers, so that it can be used as an alternative to TGPuttyLib. It may not be able to achieve the same transfer rates, but the updated version is good to have as an option. It is also the only library that currently supports issuing SSH shell commands, including the recursive listing option. Syncovery now also support using an SSH shell command to make a local copy of a destination file, when combining Versioning and Block Level Copying. For cases where the SSH shell path differs from the SFTP path, Syncovery now allows to specify a "Path Prefix for Shell Commands" on the second tab sheet of the Internet Protocol Settings dialog.
Support for empty folders via S3 and Azure BLOB Storage protocols
Syncovery 10 finally supports empty folders on S3 compatible clouds as well as Azure BLOB Storage. Traditionally, these were unsupported because these storages don't really have folders. Instead, each item on these storages can have a very long name that includes the full path with slashes. Folders don't natively exist on these storages, but they are emulated by uploading an empty item with the folder name and a trailing slash. That way, even an empty folder can exist on these storages. Syncovery now supports these emulated folders. A new checkmark "Support Empty Folders" has been added to the second tab sheet of the Internet Protocol Settings dialog. It is checked by default for new profiles, but existing jobs from previous Syncovery versions will have it disabled unless you edit the job and place the checkmark.
Combining Versioning and Block Level Copying
In previous Syncovery versions, combining Versioning and Block Level Copying meant having to use Synthetic Backup, where the changed blocks were uploaded or saved in separate Zip or Sz files every time the backup job ran. Syncovery 10 adds the ability to "Keep older versions" and use "Block Level Copying" even if you don't want to use compression or encryption (i.e. Synthetic Backup). What this means is that a copy of a modified file has to be made on the destination machine, so that the copy can be kept as an older version, and the latest version can be updated with only the changed blocks being copied. This copy can be made by using the new Syncovery Remote Service v10, or by using an SSH shell command. A new checkmark on the Special tab sheet in the profile is available if you want to use the Remote Service to make the versioned copy. If this checkmark is not chosen, and you are using the SSH/SFTP protocol, then Syncovery will try to make an SSH shell connection and issue a local copy command on the server.
Spawning Separate Sub-Jobs for Each Subfolder
This new but rarely used feature will make Syncovery treat subfolders as separate jobs, by simultaneously spawning separate sub-jobs that handle each subtree. You can specify the subfolder level on which the separation into sub-jobs should take place. This feature may help speeding up the synchronization of large folder hierarchies with many folders and files. The new checkmark "Spawn Separate Sub-Jobs" has been added to the tab sheet Special->More in the profile.
Miscellaneous Smaller Feature Additions
A few smaller features have been added, some of which are very special and rarely used.
The option "Flat Right Side (no folders)" on the "Folders" tab sheet in each profile has been enhanced to be able to add timestamps to filenames if there is a conflict, i.e. the same filename occurs in several subfolders on the left-hand side, but no subfolder struture should be used on the flat right side. A new checkmark has been added for this feature on the "Folders" tab sheet in the profiles.
Another new checkmark on the "Folders" tab sheet is called "Create Folder Symlinks from Destination to Source – Don't Copy Any Files". In this very special mode, Syncovery won't copy any files and won't create any folders. Instead, it will scan only the topmost level (the profile's base folders) and will create symbolic links on the destination side for any subfolders, and each symbolic link will point to a subfolder on the source side.
A similar rarely used checkmark has been added to the tab sheet "Files"->"More" in the profiles: "Create Links to Source Files Instead of Copying Files". This interesting feature will cause Syncovery to generate Windows links (lnk files) on the destination side, which point to the source file on the other side. No files are copied.