Some customers have seen various types of error messages when connecting with Sharepoint.
A common cause for errors is if you try to paste a Sharepoint URL from your Browser into Syncovery. That does not usually work, because the Sharepoint API uses entirely different ways to identify objects.
To connect to a Sharepoint library, please click the Internet button and enter only the most basic domain, such as: contoso.sharepoint.com
Then click the topmost Browse button to choose your Sharepoint (sub)-site and library.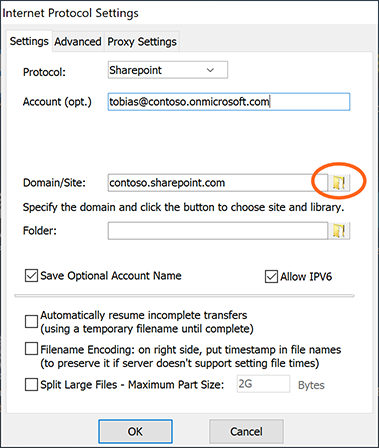 The URL will then be replaced with something longer and more complex, including the chosen library's drive ID.
Then you can click the second Browse button to choose your folder.
Sharepoint servers sometimes issue error messages such as "Service Unavailable". In those cases, all you can do is wait.
As an alternative, you can try the Graph protocol. This is a newer Microsoft protocol which allows you to access multiple different storage types, including Sharepoint and OneDrive for Business.